Indian Seed Congress - 2011, Hyderabad: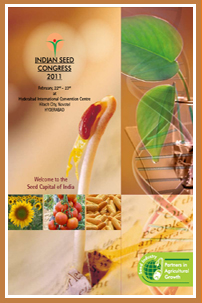 Seed, the vehicle for delivering the benefits of technology, is the most important input, influencing the growth and sustainability of Indian Agriculture. The organised Indian seed industry has contributed significantly to ensure continued access to quality seed for the Indian farmers and improving their food, nutritional and livelihood security. Superior genetics and technologies from the 'State of the Art' R & D establishments, which are high performing and adapted to a wide range of agro-climatic zones have resulted in considerable productivity enhancements. These advancements have helped India emerge as a major player in the global seed business. With an estimated turnover exceeding ` 70 billion (USD 1.5 billion), India ranks fifth in the world seed trade, and is poised to rise higher on the strength of its dynamic, innovative, internationally competitive, research based seed industry.

The Indian Seed Congress 2011 is being convened on 22-23 February 2011 at Hyderabad, the 'Seed Capital of India'. Encouraged by the success of the first modest effort, Indian Seed Congress 2011 is being organized at the Hyderabad International Convention Centre (HICC) to be able to meet the expectations of all stakeholders for a bigger and better event. Hyderabad, the capital of the southern state of Andhra Pradesh, is the main hub of seed producing and processing activity in the country, with most of the leading seed companies headquartered in and around the city, which also houses a large number of agriculture research and management institutes.