Venue City: Venue City: Hyderabad
Hyderabad is the capital of southern India's Telangana state. A major center for the technology industry, it's home to many upscale restaurants and shops. Its historic sites include Golconda Fort, a former diamond-trading center that was once the Qutb Shahi dynastic capital. The Charminar, a 16th-century mosque whose 4 arches support towering minarets, is an old city landmark near the long-standing Laad Bazaar.

Climate Hyderabad has a hot, wet and dry climate. The monsoon or rainy season is from late June until late October. On average, 32 inches of rain falls on the city each year. The highest temperature ever recorded was 51.5 °C (113.9 °F) on 2 June 1966. The lowest recorded temperature was 1.1 °C (43 °F) on 8 January 1946. It is cooler in the evenings and mornings because the city is high above sea level.


VENUE: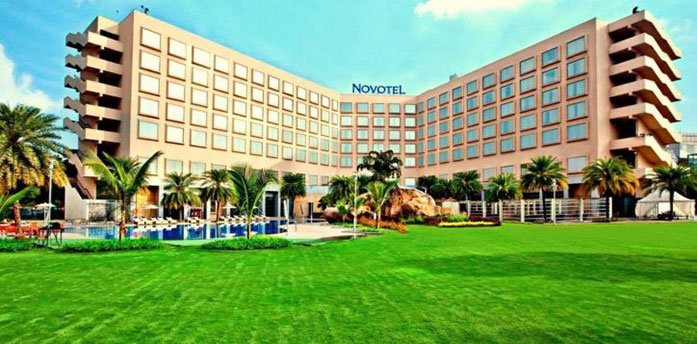 Hyderabad International Convention Centre (HICC): India's first Convention Facility built specifically for holding conventions located in the emerging business hub of India - Hyderabad. Developed by the Cyberabad Convention Centre Private Limited, a joint venture between Emaar Properties (PJSC) of Dubai and Andhra Pradesh Investment Infrastructure Corporation (APIIC), this convention facility is managed by Accor, one of the world's leading hospitality and tourism management companies.
Built on a 15-acre landscaped environment, HICC has an unsupported internal hall space of net 6,480 sq. meters. It can be partitioned into six halls in an open capacity, each holding up to 400 tables in Banquet setting and 6,000 in cocktail. The pre-function Foyer space is 6,500 sq meters in addition to this internal space. This Centre has mobile collapsible wall partitions, and when fully expanded can accommodate up to 5,000 people. Built in the USA, these mobile operable walls are sound-proof, covered with teak and silk.
It takes
32 minutes
to travel from
Hyderabad Airport
to
Hicc And Novotel
. Approximate driving distance between
Hyderabad Airport
and
Hicc And Novotel
is
27 kms
PLACES TO VISIT: HYDERABAD
Charminar
The capital city of Telangana, Hyderabad is a popular tourist destination and presents its visitors with a mesmerising contrast of age old traditions, culture at one end and modern facilities, amenities of a metropolitan city at the other end. Hyderabad is one city, which has no dearth of tourist attractions.
The very well-known Charminar of Hyderabad is located at the Old City. This square shaped structure with a height of 56 m and breadth of 30 m was constructed in 1591. It was built by Sultan Mohammed Quli Qutb Shah in the honor of his wife Bhagmati.
Golconda Fort
Just 11 km away from the city, the architectural marvel Golconda Fort is well connected to the rest of the city. Built by Qutub Shahi Kings, this fort presents an impressive structure, with eight gates and 87 bastions. Its impressive structure has majestic walls which are as high as 15 to 18 foot and a parameter of close to 11 km. Along with brilliant architecture, this fort also captivates its visitors with its system of acoustics, its water supply system, 'Rahban' cannon and Ramdas' prison which has carved Hindu deity in it.
Ramoji Film City
Since 1991, Ramoji Film City has been alluring tourists from every corner of the country. One of the largest film studios in the world it has the capacity to house almost 50 film units within a given point of time.It is also listed in Guinness Book of World Records as well. Spread over 2500 acres, it is situated about 30 km away from Hyderabad. Its brilliant architecture and sound technical facilities make it suitable for all the pre and post production of a film.
Hussain Sagar Lake
Connecting the twin cities, Hussain Sagar Lake boasts of being the largest artificial lake in Asia. On the tributary of Musi River, it was excavated during Ibrahim Quli Qutub Shah's reign, in 1562 AD. It has got its name after Hussain Shah Wali. The main attraction is 16 m high white granite statue of Lord Bhudda with a weight of 350 tonnes, situated at the middle of the lake. The lighting show here is worth watching.
Birla Mandir
Located atop 280-foot-high hillock of Kalapahad, the beautiful Birla Mandir has derived its name from the industrialist Birlas who have constructed Birla temples in various parts of the country.
Constructed in 1976, it is said it took close to 2000 tonnes of white marbles to build this stunning temple which was brought from Rajasthan. It has drawn its architecture from the amalgamation of three known architectural designs - South Indian Architecture, Utkal temple Architecture and Rajasthani Architecture. The temple has 11 ft. tall statue of Lord Lakshminarayana with a magnificent lotus carved around it. It also has separate shrines for deities such as Venkateswara, 'Padmavati' and 'Andal' as well. The complex also houses a separate temple of Lord Bhudda.
SHOPPING
Shilparamam
Famous for: indigenous Pochampally fabric, local crafts, wooden sculptures and jewelry.
Laad Bazaar (Chudi Bazaar)
Famous for: Bangles, dupattas and pearls
Antique Market
Famous for: Vintage and antique pieces and products
Char Minar Bazaar
Famous for: Ethnic clothing, indigenous products and pearls
Mozzamjahi Market
Famous for: brass ware and Ikat weaves
Jummerat Bazaar
Famous for: everything you thought you wanted and everything you thought you didn't at cheapest prices
RELIGIOUS PLACES IN HYDERABAD
Charminar
This imposing gateway lies in the heart of Hyderabad's Old City, and is now the city's best-known symbol.
Jagannath temple
Located near Banjara Hills, this temple is a replica of the original Jagannath Temple in Puri, Odisha. Although it was built only in 2009, it is considered an architectural landmark in Hyderabad.
Chilkur Balaji Temple
Situated on the banks of the Osman Sagar Lake in the outskirts of Hyderabad, this temple is famously known as the Visa Balaji Temple. It is dedicated to an incarnation of the Hindu god known as Balaji
Birla Mandir
Perched on the 85-m hillock known as Naubat Pahad in the southern end of the Hussain Sagar Lake, the Birla Mandir commands stunning views of the twin cities of Hyderabad and Secunderabad.