Indian Seed Congress - 2013, Gurgaon: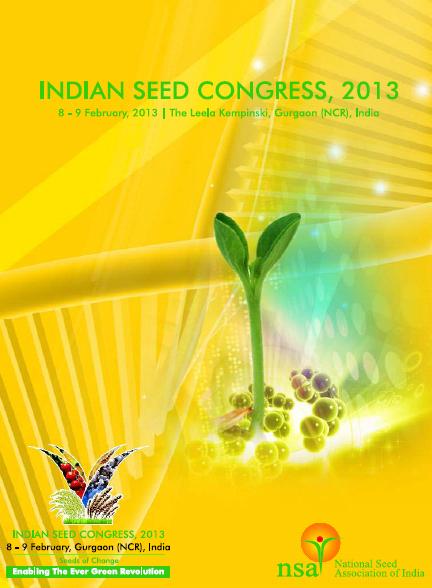 The Indian seed industry continues to strive to exceed the expectations of the Indian farmers by investing in state of art R&D programmes and infrastructure to develop high performing products for our farmers. This is done through regular consultations by the industry with the concerned stakeholders. An important exercise in this regard is the Indian Seed Congress, an annual forum organized by the National Seed Association of India (NSAI), the apex organization representing the Indian seed industry, to review the status; deliberate on the new technological advances and the barriers to technology development and introduction; showcase new product range and services and network for better business development. The Indian Seed Congress provides a platform for the seed industry personnel to interact closely with technology developers, sector development officials and policy makers.

NSAI invited all the stakeholders to the Indian Seed Congress 2013 (ISC'13), the fourth edition of the mega industry event organized at Hotel Leela Kempinski, Ambience Island, Gurgaon (Delhi NCR) on 8 – 9 February 2013, on the theme "Seeds of Change – Ensuring the evergreen revolution'. The theme for the earlier editions of the event organized in Bangalore (2010) was "Seeds for Global Food Security" Hyderabad (2011): 'Seed Industry – partners in agricultural growth' and 'Seeding Rural Prosperity' for Pune (2012). These Congresses attracted participation by representatives of all major stakeholders including industry (seed & allied), policy makers, developmental agencies, scientific community and farmers' organizations. The Congress delegates included industry leaders from more than 15 countries.